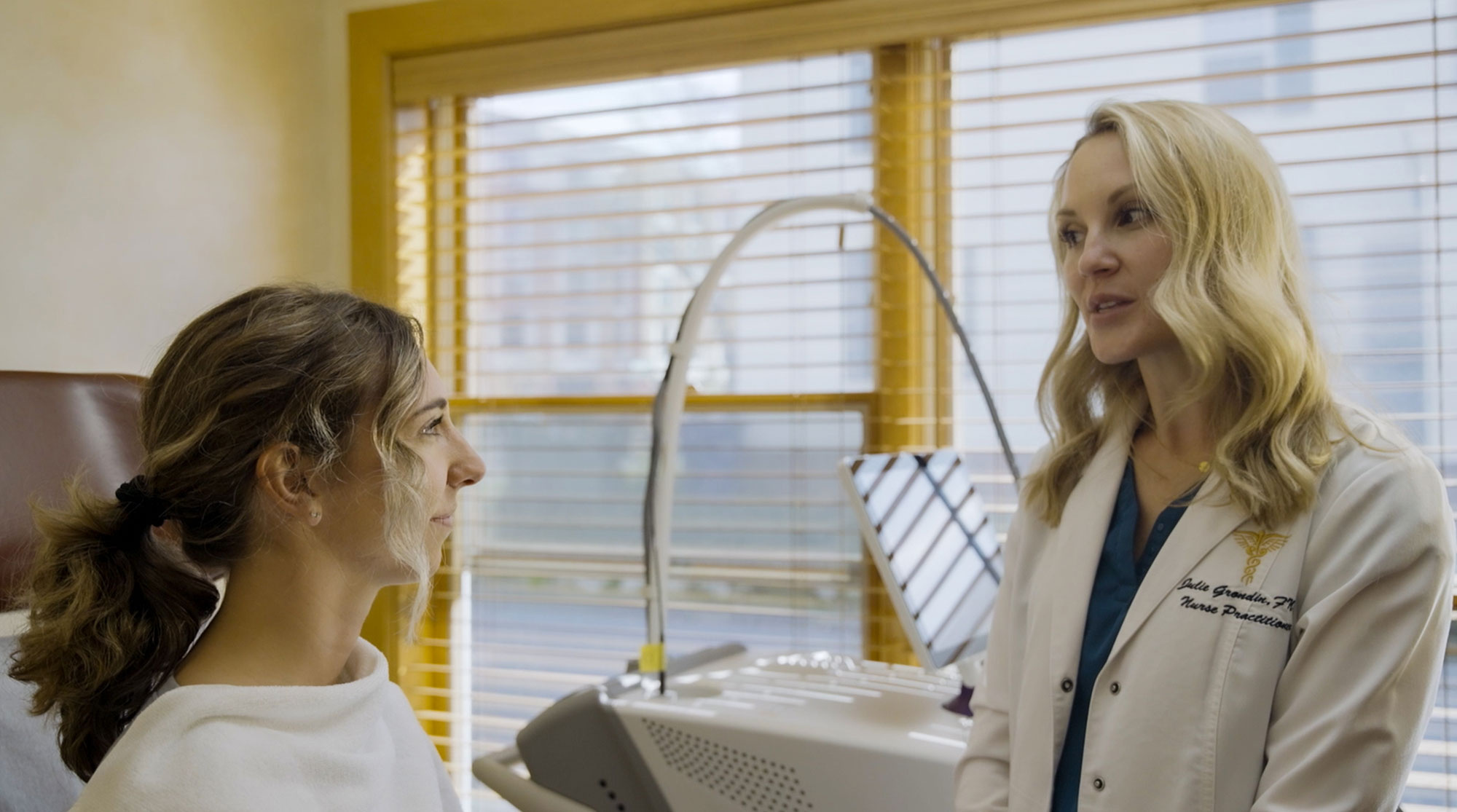 A Little Bit About Us...
22 NEWS (WWLP) — June 2018, we appeared on Mass Appeal with Danny New and discussed our treatment range, philosophy, and how we're different from other skin care offices. For more information about our services and what treatments are right for your skin care needs, call our friendly staff at 413-253-2214 to schedule a free initial consultation.
Laser Tattoo Removal
SPRINGFIELD, Mass. (WGGB) — We've all done things at one time we thought may have been a good idea…but how do they seem ten years later. Now think about if those mistakes were permanently inked into your skin. ABC40's Lindsay Iadeluca takes us inside the world of tattoo removal and how it's a bit more complicated than you may think.​
Tattoos are thought to be a pretty permanent choice, but now a days you can choose to embark on the removal process – one that Laurie Deyette is happy to have almost finished. Now thanks to Dr. Robert Weitzman of Amherst laser and skin care, Deyette is down to her final removal treatments. Dr. Weitzman has been removing tattoo's for over a decade now and says he's just recently seen dramatic improvements in the process.
​"Technology has improved and it continues to improve, the machines are getting more and more powerful. There's a nano pulse which is a very fast bit of light now there is a pico-second pulse, which is more shorter quicker, more powerful. The surprising thing for many people is that it takes so long to remove a tattoo, it can take 2 years, and it's a wow you do something silly at 18 you really pay for it in terms of time, pain and money," Dr. Weitzman said.
Laurie Deyette knows this first hand. "It's almost like an elastic band being snapped on your wrist. It's a much longer process than getting the tattoo itself," Deyette told ABC40. It's an expensive process as well, averaging 150 dollars per treatment and as a cosmetic treatment, it's not covered by any insurance. As for help with the pain Deyette's tattoo is on the smaller side so she forgoes the optional topical anesthetic and fights through it. But for those with larger designs they say the pain can be almost ten times what the actual tattoo felt like. "If I was to do it over again i would re -think it," Deyette said.
Dr. Weitzman says that it really just comes down to making a smart initial decision and doing the proper research.
SmartLipo vs. CoolSculpting
SmartLipo
What is the procedure?
Smart Lipo is an in-office outpatient procedure lasting 1-3 hours. It is a type of liposuction that also uses an internal laser to melt fat cells. It has the added benefit of stimulating collagen production, meaning it tightens up your skin and boosts elasticity.
Is everyone a good candidate for the procedure?
Ideal candidates for Smart Lipo are looking for a reduction in specific stubborn areas of fat.
Will I have pain? What is the recovery time?
Because the area is anesthetized, there is minimal discomfort during the procedure. You may feel a light pressure, but it is a mild sensation. A compression garment may be worn for a short period after treatment, depending on the body area treated and the recommendation of your physician. Moderate discomfort is to be expected post-procedure. Most patients need only Tylenol or Advil for pain management. *Quick recovery time is to be expected.
How many procedures will I need?
Most patients will only need one procedure for desired results.
What kind of results can I expect and how long will they last?
Results may be evident after a few weeks but usually, that tightness takes several months to become noticeable, and you will continue to see improvement for 6-12 months. Your results should last for as long as you maintain a stable weight. If you gain weight, the remaining fat cells will expand. It is important to keep eating a healthy diet and exercising regularly to stay fit and keep your body looking proportionate.
CoolSculpting
What is the procedure?
CoolSculpting uses fat-freezing technology to freeze fat and relies on your body to absorb it over time. It is a nonsurgical procedure resulting in a 20-25% reduction of fat per treatment. CoolSculpting cannot tighten loose skin. If the skin has stretched around fatty buildups, a person may have excess skin after the procedure to remove the fat.
Is everyone a good candidate for the procedure?
Ideal candidates for CoolSculpting are people looking for a reduction of specific stubborn areas of fat. They are at or near a healthy weight and not significantly overweight.
Will I have pain? What is the recovery time?
During the procedure, you may experience sensations of pulling, tugging, mild pinching, intense cold, tingling, stinging, aching and cramping at the treatment site. Post-procedure redness, swelling, blanching, bruising, firmness, tingling, stinging, tenderness, cramping, aching, itching, or skin sensitivity may occur. Most patients need only Tylenol or Advil for pain management. *Quick Recovery time is to be expected.
How many procedures will I need?
Multiple treatments may be needed for desired results as only a 20-25% reduction in fat will occur after treatment.
What kind of results can I expect and how long will they last?
You may start to see changes as soon as four weeks after your treatment and will experience the most dramatic results after two months, but your body continues flushing out fat cells for up to six months after treatment.
Pros of SmartLipo
In office outpatient procedure.
Melts and removes fat cells.
Promotes skin tightening.
Most times only one procedure needed for desired results.
Quick Recovery time.
Long lasting results with proper diet and exercise.
Less costly.
Results begin to show as soon as swelling subsides and continue to improve over the next 6 months.
Cons of SmartLipo
Surgical Procedure.
1-3 hours in the office.
3-5 days downtime.
Minimally invasive.
Pros of CoolSculpting
In office outpatient procedure.
Non-invasive
Non-surgical
Quick recovery time
Results with proper diet and exercise
Little to no downtime
Cons of CoolSculpting
Only 20-25% of fat reduction per treatment
Freezes fat cells relying on your body to reabsorb them over time
Multiple treatments needed for desired results
Does not tighten skin
Costly due to multiple treatments
Results take longer to show initially
Contact Us
Interested in learning more or scheduling a visit with us? Use the form below to contact us.
*If you are a current customer and are looking to make changes to an upcoming appointment, please call or email our team directly.